Calming Moss

Moss, even in a preserved state, has benefits, inspiring calmness in those who look at it and providing greenery in spaces that normally couldn't support living walls.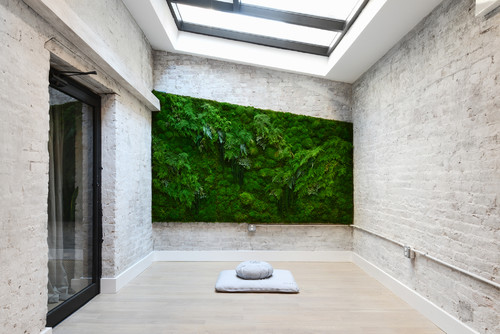 Home Gym by New York Photographers Claire Esparros for Homepolish


MNDFL, a new meditation studio in Manhattan, is a quiet place for contemplation. The stripped-down space limits physical distractions, with an oversized preserved moss wall serving as a primary design element. The 9-foot-wide moss wall is surrounded by whitewashed brick walls and illuminated by natural light from a skylight.

The moss wall is there to offer the contemplative and calming benefits that are said to come from simply looking at plants. "Plants have been proven to contribute to our lives in incredibly meaningful ways. They can increase our focus, our productivity, our creativity and even boost our mood. They reduce stress and calm us," says Eliza Blank of plant design shop The Sill, who collaborated with MNDFL and the designers at Homepolish to bring plants to the space. "Even just viewing trees in an urban space has been associated with improved help. Like all plants, the design of the wall is meant to inspire calm."

MNDFL's moss wall provides visual contrast in its urban locale."New York is built with concrete and metal, so seeing the vivid green gives one pause in a city like this," says Ellie Burrows, CEO and cofounder of MNDFL. "Meditation is, in its essence, about pausing and focusing on something as simple as the breath, so I think it echoes the overall essence of the studio."

Moss-viewing as a calming activity has become something of a phenomenon. In Japan, for example, visitors tour the country on moss-viewing trips and observe some of Japan's estimated 1,600 to 2,000 moss species. In addition to appreciating the moss's resilience and beauty, some of the participants say that looking at moss offers relief from the stress and pressures of everyday life.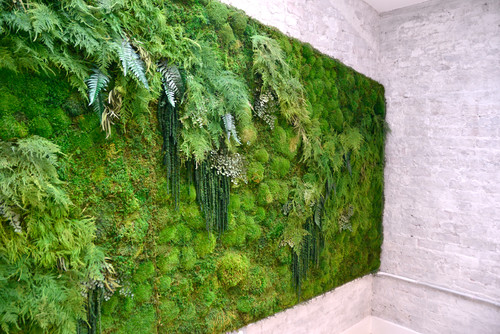 Spaces by New York Photographers Monica Lee
In the meditation studio in New York, the moss wall is meant to encourage interest without overwhelming the space or distracting those who are in it. "We wanted a wall that was breathtaking but encouraged deep breathing just the same," Blank says. Its primarily monochromatic design features sheet mosses and dimensional mosses, as well as some ferns for texture and layering.

Blank describes the vision for the wall as lush and layered in greens, like a forest floor. "Up close it has so much going on and really invites the viewer to connect with nature," says Erin Kinsey of Artisan Moss, who designed the moss wall.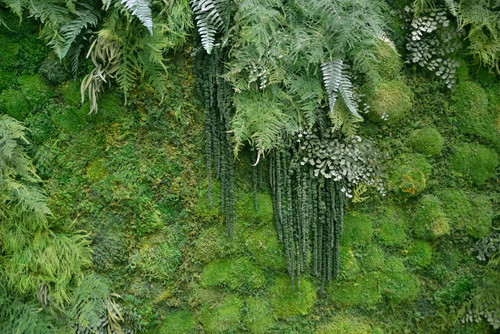 Spaces by New York Photographers Monica Lee
The studio's location, in the basement of an 1837 townhouse, lacks the natural light, reinforced walls and maintenance staff required to support a typical indoor living wall. Although moss is a low-maintenance plant that doesn't need much soil to grow, it requires moisture and some light to survive.


The plants in the wall provide the benefits of a living wall without the maintenance, structural requirements or added tools like grow lights that make having a living wall inside possible. "Plus they're just lovely to look at," Burrows says.
ref: Annie Thornton